Product Description
The FGSVG series low voltage Static Synchronous Compensator adopts intelligent algorithm for control, can quickly compensate for reactive power, filter harmonics, suppress voltage fluctuations and flicker, and can effectively suppress three-phase unbalance, which can well solve the power quality problem in power supply system. The low voltage STATCOM has main function of compensation for reactive power, harmonic control, balance negative sequence current and suppress voltage flicker. So this static synchronous compensator plays an important role in improving power quality.
380V Voltage Class FGSVG STATCOM Compensator Main Power Topology

Operating Principle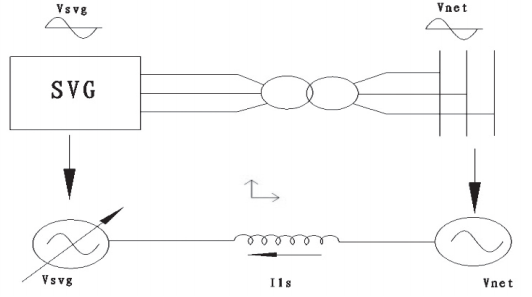 The basic principle of the FGSVG dynamic var compensator is to use a power-off electronic circuit device that can be turned off to form a self-commutated bridge circuit. The transformer or reactor is connected in parallel to the power grid, and the amplitude and phase of the output voltage of the bridge circuit are properly adjusted, or directly Control the output current, so that the circuit absorbs or emits reactive current that meets the requirements of the power grid, and achieves the purpose of dynamic reactive power compensation.
Zero load operation: U1=Us,IL=0,SVG neither absorbs nor generates reactive power.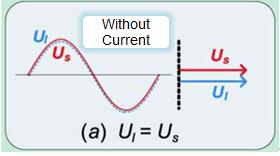 Output capactive reactive: U1>Us, IL a leading current whose amplititude can be continuously controlled by adjusting U1, there by continuously adjusting the reactive power generated by SVG.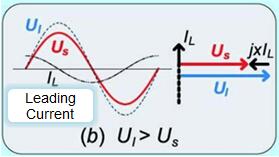 Output sensible reactive: U1<Us, IL is a lagging current. In this case, the reactive power absorbed by SVG can be controlled continuously.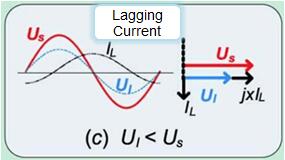 Characteristics of FGSVG Static Var Generator
1. Voltage source inverter --- the reactive power output can be dynamically and continuously adjusted to meet the power factor compensation requirements to the maximum, and the power factor at any time reaches 0.98~1.0.
2. Inductive / capacitive two-way adjustable --- Static Var Generator (SVG) does not need to configure a filter branch. Since no filtering is required, the SVG capacitor bank can be expanded or modified at any time to meet the new demands of possible operating conditions.
3. It does not need to increase the filter branch, it has the function of filtering harmonics --- STATCOM has the ability to control background harmonics of 19 times and below without increasing the filter branch.
4. Dynamic compensator has the smallest footprint.
5. Controllable current source--- SVG grid generator is a direct current control, the current output can be limited, no resonance occurs, and safety is high. TSC and TCR are impedance type devices. During long-term operation, system operation changes, reactors, and capacitor parameters change, which can easily lead to harmonic amplification and affect system safety.
6. Responding speed is 5ms --- The fastest response, with super reactive power compensation and harmonic filtering. Power SVG uses a new power electronics IGBT with a break time of less than 2us. The TSC and TCR are controlled by a thyristor with a switching time of 10ms, which is approximately 5,000 times that of an IGBT.
7. Loss is 0.5~0.8% --- The SVG grid generator has low operating loss, mainly due to the connection of reactors and IGBT losses, and the operating loss of the complete unit does not exceed 0.8%. In SVC, only the phase-controlled reactor has a loss of 0.9~1%, plus the thyristor and filter branch losses, the total loss is at least 1.2%.
8. Direct control of output current stepless regulation --- The generator SVG output reactive power compensation current does not decrease with the bus voltage drop, so that the dynamic compensation and voltage stability control capability of the same capacity SVG is 1.2 times or more of the same capacity TSC or TCR.
9. There are no phase-controlled reactors and magnetron reactors, and the harmonic characteristics are good. The noise of static device is smaller than TSC and TCR.
10. STATCOM in power system has high reliability and low maintenance.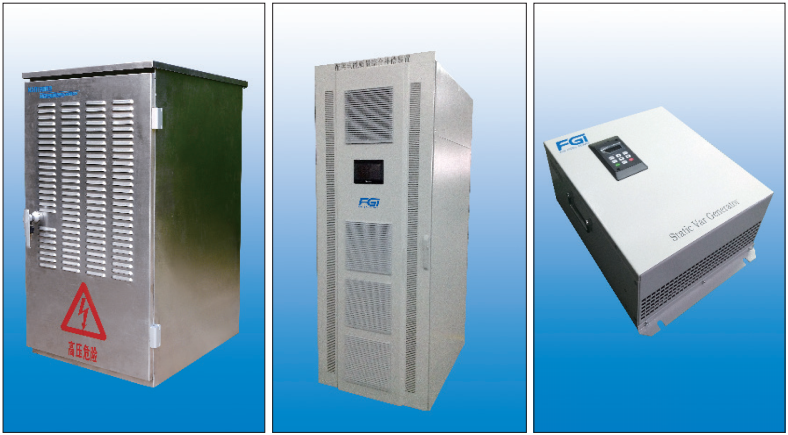 FGSVG STATCOM Advantages
1. A three-level structure is used to reduce the voltage stress of a single IGBT and reduce du/dt.
2. LCL filter circuit can effectively absorb high frequency harmonics.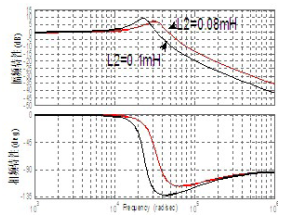 LCL Filter Bode Plot
3. The response is fast and the full response time is approximately 3.8ms.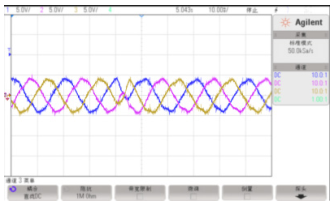 Full Response Time
4. The analog sampling design has high precision and uses internationally renowned devices to build a hardware platform to effectively guarantee product quality.
Main Specification
Product model: FGSVG-L X /0.4-X X-X
Product function: compensation for reactive power, harmonic control, balance negative sequence current, suppress voltage flicker
Input
● Operating voltage: 380VAC± 10%;
● working frequency: 50±0.2Hz;
● Entry method: Outdoor model, incoming line, indoor model, incoming line;
● Grid phase sequence adaptation: YES;
● External CT requirements: Three-phase current CT, secondary side rated current 5A, accuracy 0.2s or higher;
● Current detection method: Grid side / load side detection;
Performance
● Single compensation capacity: 50~1000kvar;
● Reactive output range: Capacitive rated power to inductive rated power stepless smooth adjustable;
● Reactive output characteristics: current source;
● Effective response time: Instantaneous response time is less than 100us, full response time is less than 10ms;
● Unique technology: Fault elimination self-start;
● Noise: Not more than 60dB (background noise 45dB);
● Effectiveness: Greater than 97% at full power operation;
Display and interface
● Display specification: FGI independent research and development design display;
● Communication Interface: RS485, Ethernet;
● Communication agreement: Modbus_RTU, IEC60870-5-104;
Protective function
● AC overvoltage protection: YES;
● DC overvoltage protection: YES;
● Temperature protection: YES;
● Device short circuit protection: YES;
● Device overload protection: Limited to rated power;
Safety performance

● Is there a reliable grounding point: YES;
● Insulation resistance: 500VDC megger, 100MΩ;
● Dielectric strength: 50Hz, 2.2kV sinusoidal AC voltage 1min, no breakdown, no arcing, residual current less than 10mA;
Product configuration
● Stand-alone operation: YES;
● Parallel operation: Up to 10 units in parallel;
● Protection level: Indoor model IP20; outdoor model IP44;
● Shell color: Standard RAL7035, if you need other colors, please contact FGI to customize;
● Dimensions: See FGSVG Series Low Voltage STATCOM Specification and Dimensions for details.;
Environmental conditions
● Ambient temperature: -10 ° C ~ +40 ° C;
● Storage temperature: -30 ° C ~ +70 ° C;
● Relative humidity: Monthly average is no more than 90%, no condensation;
● Altitude: 1000m, higher than 1000m, need to consult FGI for customization;
● Heat dissipation method: Intelligent air cooling.
Product Model Description and Dimensions
The low voltage SVG series model description is shown in the following Figure. Example: FGSVG-L50 / 0.4-3H-O means new landscape 380VAC 50kvar three-phase three-wire wall-mounted outdoor SVG.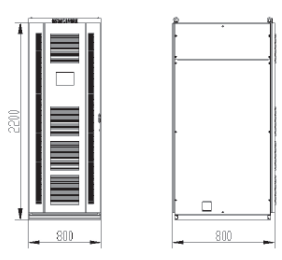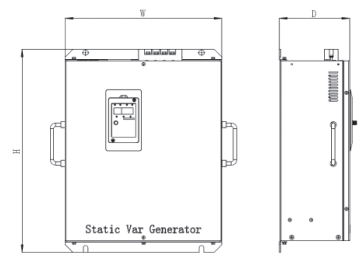 Cabinet type SVG Dimensions Wall Cabinet SVG Dimensions
FGSVG Series Static Var Generator Quick Reference---for more information, please download the attachment.
Product Model Voltage Level Rated Capacity Dimensions Weight Entry method Note
(kV) (kvar) W(mm) D(mm) H(mm) (kg)
FGSVG-L30/0.4-4H 30 405 179 465 25

Application
FGSVG series low voltage static synchronous series compensator can be widely used in rail transit, hospital, heating industry, Cigarette Factory, Offshore oil production, Rural power grid, Radiator factory, Shipyard, Construction machinery factory, airport, Water plant, Sewage treatment plant and other industries.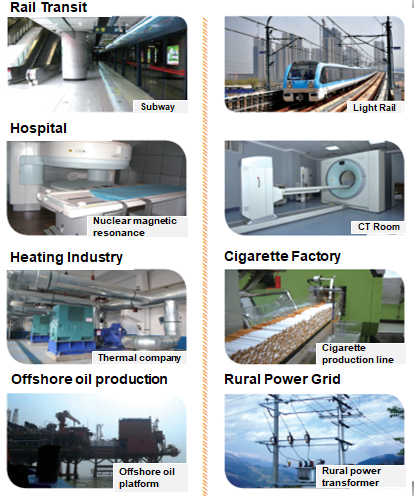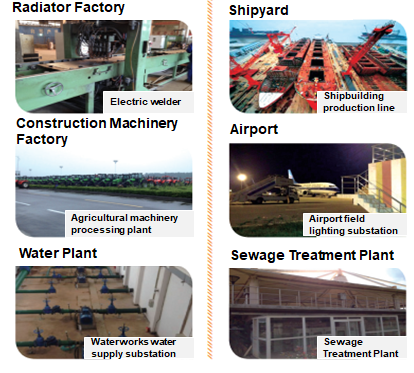 Our Service
OEM Service is available
After-sales responding within 24 hours
One to one pre-sales consulting services
We are factory with high-tech professional engineer teams
Technician could be assigned to go abroad to carry out site commissioning and technical training